Arrhythmology Department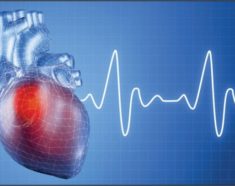 Arrhythmology Department has been functioning since February 2004. Since 2012, the department has been expanded up to 35 beds with two X-ray operating rooms to provide specialized medical and diagnostic assistance to patients with complex heart rhythm disturbance, either in cases of planned and emergency admission.
In accordance with the main objectives, the department conducts examination and treatment of patients with:
Cardiac rhythm and conduction disturbance;
atrial fibrillation;
supra ventricular tachycardia;
ventricular tachycardia;
WPW syndrome;
II – III degree atrioventricular blockade;
Sick sinus syndrome;
Performed surgeries:
implantations of one and dual chamber electric cardiac pacemakers, more than 200 devices per year;
implantations of cardioverter defibrillators, more than 70 devices per year;
implantations of cardioresynchronizing devices, more than 70 devices per year;
intracardiac electrophysiological study radio frequency ablation at:
supra ventricular tachycardia – more than 200 patients per year;
WPW syndrome – more than 120 patients per year;
ventricular tachycardia of coronarogenic and non-coronarogenic genesis – more than 20 patients per year;
ventricular arrhythmia – more than 60 patients per year;
isolation of pulmonary veins entry at atrial fibrillation – more than 100 patients per year.
Technological infrastructure
The operating-room is equipped in accordance with international standards, surgeries are performed on electrophysiological station "Prucka GE" (USA) and the electrophysiological station "Pwork". Since 2008, the CARTO Electrophysiological Station of "Cordis Webster" has been introduced, and since 2012 the newest CARTO 3 navigation electrophysiological station of "Cordis Webster" has been installed, which makes it possible to obtain a 3D image of the heart. In 2013, the navigation electrophysiological station "Navix St. Jude Medical" and "Medtronic" cryo-console for conducting cold insulation of the pulmonary veins mouth was installed.
The head of the department –  Professor Kabayev Ulan Temirzhanovich
Doctor of Medical Sciences
Chief resident —Zhakisheva Meruyert Anuarbekovna
Cardiologists:
Abdugalimova Akniyet Isharatovna
Andakulova Ainur Alshukirkyzy
Montayeva Yerkezhan Almazbekkyzy
Suleimenova Saule Kakymovna
Zhumabekova Anara Zhumabekovna
Anaesthesiologist:
Amanzholov Murzakhmet Kumargaliyevich
X-ray surgeons:
Yessenov Talgat Kudaibergenovich
Ormanbekov Yerlan Ergeshovich
Saduyev Kuanyzh Erkinovich
Seitkamzin Aslan Sailaubekovich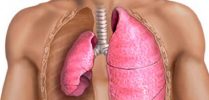 Date: 5.09.2017
Time: 07:52
Sorry, this entry is only available in Russian.
READ MORE ›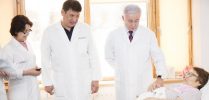 Date: 19.04.2017
Time: 05:48
Sorry, this entry is only available in Russian.
READ MORE ›