Cardiology Department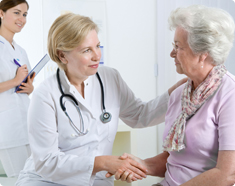 Special methods of examination and treatment of patients with ischemic heart disease, rhythm and conduction disorders, heart failure, cardiomyopathy, non-rheumatic myocarditis, chronic rheumatic heart disease are applied in the department.
Types of services rendered:
Invasive investigation and treatment approaches;
coronarography and coronary arteries stenting;
Aortography and ventriculography, arteriography of internal organs all arteries, as well as stenting,
Uterine artery and intraperitoneal organs artery embolization;
Implantation of «snare» or vena cava filter;
Endovascular intravascular ultrasound;
Renal arteries denervation at arterial hypertension resistant to medicamentous therapy;
Transplantation of bone marrow multipotent mesenchymal autologous cells at a chronic heart failure with the expressed decline of the left ventricle ejection faction.
Specialists of the department conducts scientific-research works.
The Cardiology Department also includes the intensive care unit and rehabilitation of patients after cardio-surgery interventions.
The Department provides urgent help 24/7 for patients with acute coronar syndrome, conducts percutaneous coronary interventions, emergency myocardial revascularization, urgent and planned coronary artery by-pass graft.
Head of Department : Bagdad Abdizhami
Chief residents:
Zakarina Dinara Maratovna,
Ramazan Kadyrbek
X-ray surgeons:
Alikhanov Marat Kurbangaliuly
Zhakenov Bauyrzhan Serikovich
Cardiologists:
Dzhandossova Bagdat Akhmedovna
Komsabakova Bayan Anuarbekovna
Myrzaliyeva Aray Zharylkaganovna
Interventional cardiologists:
Alpysbayeva Tamilla Maratovna
Usmanov Bekzat Mamatzhanovich