Extracorporeal Haemocorrection Department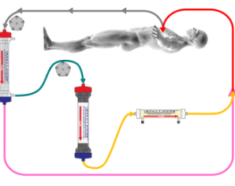 A promising area of the Department activity is the introduction of the latest treatment methods at autoimmune diseases, hypercholesteremia, atherosclerotic vascular diseases, and liver diseases.
The main directions of the Department is replacement renal therapy (high-flux hemodialysis, hemodiafiltration, hemofiltration), which is a primary treatment method at acute and chronic renal insufficiency, normalizes electrolytic blood composition and sufficiently reduces the phosphor level, that is an efficient method at secondary hyperparathyroidism.
The methods of extracorporeal hemocorrection are high-tech procedures for blood clearance, based on modern nano– and biotechnologies, during which selective removal of predominantly pathological components (antibodies, atherogenic lipoproteins, cholesterol, immune complexes, autosensitized cells of the immune system, etc.) from patient blood is performed. In such case almost all components useful and important for organism are returned back to the blood flow.
The greatest development of extracorporeal hemocorrection methods is observed in the countries with highly-developed economy and large expenses for research programs in medicine (Japan, Germany, USA, France), where these methods become available for using in the public healthcare.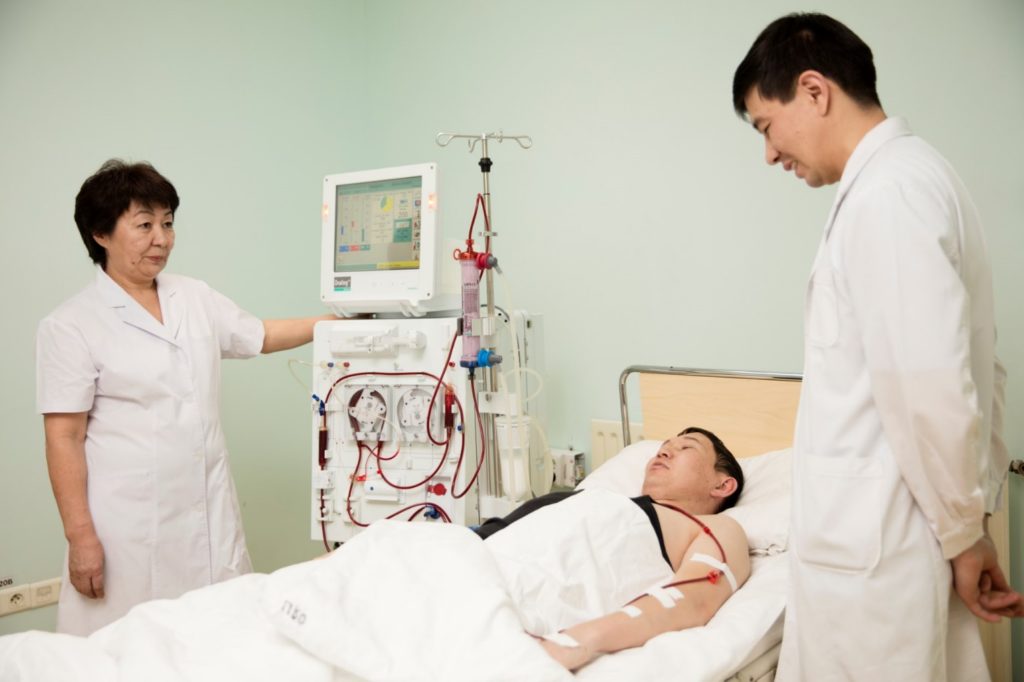 Expansion of extracorporeal hemocorrection methods is restrained due to domination of pharmacological therapy in medicine (taking drugs, many of which are artificially created xenobiotics foreign for organism). Within these conditions, successes of this direction are more than obvious: an acute and chronic replacement therapy of renal function, LDL-apheresis (selective removal of atherogenic lipoproteins) and non-selective apheresis technologies (plasmapheresis, different options of cytapheresis) have acquired more or less completed form and extension.
Modern methods for blood composition correction are not matched against medicamentous approaches to treatment of the widest range of diseases, they are considered as methods substantially improving the immediate and remote treatment results during using traditional approaches.
Research work is actively conducted in the Department; there is a Faculty of Doctors Improvement on modern directions of extracorporeal hemocorrection.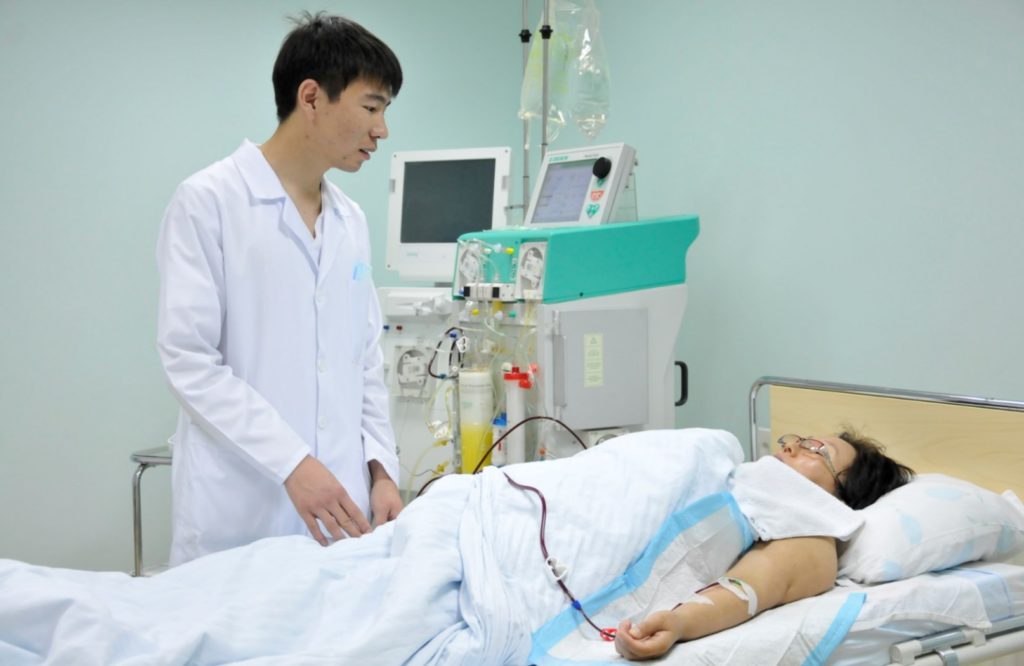 Services, provided in the Extracorporeal Hemocorrection Department:
Hemodialysis (HD) and online hemodiafiltration (HDF online)
High-flux high-value hemodialysis (High-flux HD)
Continuous Veno-Venous Hemofiltration (CVVH)* — (blood clearance predominantly from medium and macromolecular toxic substrates together with large volumes of removed water)
Therapeutic plasma exchange (TPE) — (one of the methods for plasma clearance, using centrifugal machine (HAEMONETICS MSC+) at autoimmune diseases, lipid exchange disorder (hypercholesteremia) and many other diseases)
Hemosorption (HS)
Membranous plasma exchange (PEX)
Selective membranous plasmasorption
Extracorporeal removal of low density lipids (HELP- therapy)
Cytapheresis (erythrocytapheresis, thrombocytapheresis, leucopheresis, stemapheresis)
Selective LPS sorption
Albuminous dialisys (MARS therapy) — for the treatment of patients with liver insufficiency, caused by acute or chronic liver disease
The main effects of blood composition correction methods:

Reduction of medicine efficient dosage and coping with the developing drug resistance (reduction of the frequency and intensity of side effects from drug therapy);
Acceleration of removing toxic and ballast substances from organism both due to the immediate connection and removal of substrates, and restoration of the organism detoxic systems (kidneys, liver, GIT, skin, etc.);
Improvement of the blood flow, and therefore nutrition of the brain, heart, peripheral tissues (internal organs, muscles, skin, etc.) due to improvement of blood flow, restoration of vascular tonus control, and improvement of microcirculation;

Optimization of the immune system work through correction of disbalance arising in it

Hemocorrection methods have a very wide range of indications: autoimmune and skin diseases, metabolic disorders (atherosclerosis, arthagra, obesity, etc.), intoxications, chronic inflammatory diseases, etc. The list of diseases, at which the hemocorrection is assigned as one of treatment method, exceeds 50 items.
Absence of serious side effects make the extracorporeal hemocorrection very popular treatment method for many diseases. Extracorporeal hemocorrection is also prescribed for prophylactic aims and for the rejuvenating effect.
At the "NSMC" JSC, hemocorrection procedures are performed in especially equipped treatment room with the use of disposable materials. Procedures are performed by qualified transfusiologists and intensivists.
Before prescription of extracorporeal blood surgery course, it is necessary to get a consultation of a therapist or specialized doctor.
These methods are fundamentally more physiological, than the pharmacological treatment methods, which became traditional: they serve as an addition to the evolutionally developed mechanisms of organism detoxication, contributing to the restoration of disturbed functions in potentially reversible disease states.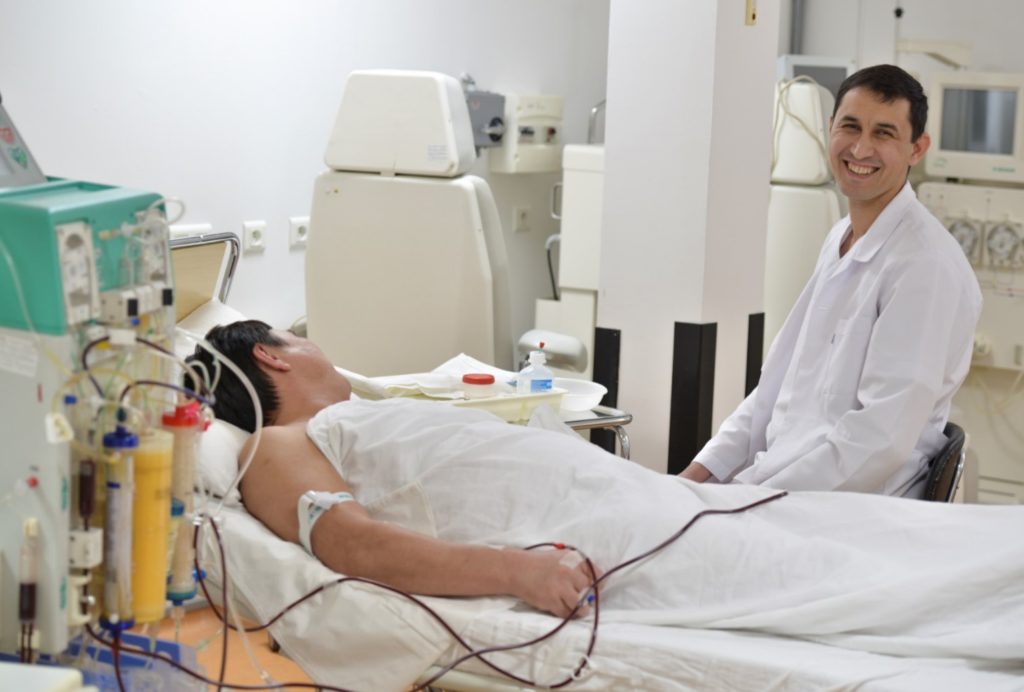 The main result of reasonable using the extracorporeal hemocorrection methods is a true increase of life expectancy and support of its acceptable quality.
Extracorporeal hemocorrection methods allow to put into practice the pronounced slogan "the need of treatment individualization with the account of the disease course features in a certain patient". Especially, when it comes to inborn metabolism disorders, leading to the development of so called accumulation diseases. There are many situations when only these methods are able to keep the life and health of patient.
Extracorporeal hemocorrection procedures:
Membranous plasma exchange.
Plasmapheresiswith plasmasorption.
Extracorporeal plasma exchange by modified (cryosorbed) autoplasma.
Lipid filtration (removal of cholesterol, atherogenous lipoproteins, as well as viruses).
When indicated it is possible to perform other hemocorrection procedures.
To achieve a maximum effect and minimize occurring of side effects, there is an individual selection of an optimal extracorporeal hemocorrection procedure program for each patient, and its agreement with the traditional drug therapy measures.
All procedures are performed by experienced doctors and medical nurses with the use of only sterile disposable materials, that excludes the risk of transferring hepatitis and other bloodborne infections.
Depending on a patient peculiarities, the treatment is performed in outpatient or daily inpatient hospital.
Outpatient reception
The Extracorporeal Hemocorrection Department conducts an outpatient reception. You can get consultation of a nephrologist on any concerning issues, and undergo a whole range of laboratory and instrumental examinations, including pathohistological and microbiological investigations.
To arrange a consultation, please call: +7 (7172) 57-76-64; +7 (7172) 57-78-23 +7 (7172) 57-74-40; (Mo-Fr: 08:00 — 17:00)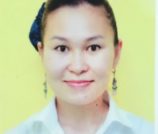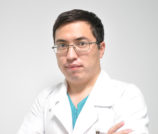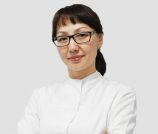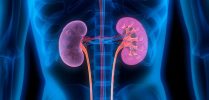 Date: 5.09.2017
Time: 11:33
Sorry, this entry is only available in Russian.
READ MORE ›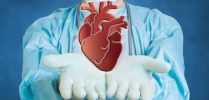 Date: 5.09.2017
Time: 08:56
Sorry, this entry is only available in Russian.
READ MORE ›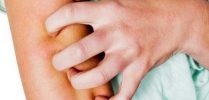 Date: 5.09.2017
Time: 08:35
Sorry, this entry is only available in Russian.
READ MORE ›