Radiology Department
Different investigations, including within the framework of the respiratory program on detection of lung diseases, early forms of all organs and systems tumors; diagnostics of abdominal cavity organs, diseases of the nervous system, bones and joints, etc. are performed in the department.
The virtual CT-bronchoscopy, CT-bronchography, CT–colonoscopy, CT–colonography are applied in the clinic.
Magnetic-resonance imaging (MRI) allows to diagnose a pathology of the brain and spinal cord, backbone, abdominal cavity and retroperitoneum organs, organs of small pelvis, large joints and mammary gland.
The following special non-invasive methods are used during investigations: MR-myelography, MR-arteriography, MR-urography, MR-cholangiography, which do not require intravenous introduction of contrast substances.
Head of the department: candidate of medical sciences Chuvakova Elmira Kelesovna
Chief resident: Orazbekova Zhanar Orimbekovna
Roentgenologists:
Abdrakhmanova Karlygash Katayevna
Aitulova Zhulduzai Mukhtarovna
Zhangalova Aisulu Muratbekovna
Kazybek Bagdat Maratovich
Sarkenova Assel Nurlankyzy
Salsengaliyev Timur Izbassarovich
Tsoy Boris Viktorovich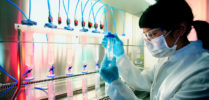 Date: 8.11.2016
Time: 19:48
Sorry, this entry is only available in Russian.
READ MORE ›