Urology Department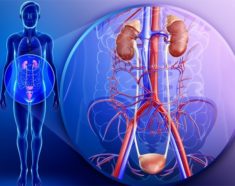 The multifaceted center JSC "National Scientific Medical Center" includes the Urology Department. The main task of the Urology Department is the provision of highly specialized and high-tech urological assistance both for patients from the capital and patients from other regions of the Republic of Kazakhstan and foreign patients. For this purpose the most modern and high quality equipment complying with the strictest global requirements are selected for our clinic. Our department consists of competent highly qualified specialists trained in the leading clinics of Israel, Korea and Russia. Using the best achievements of domestic and foreign urology, unique developments and methods in treatment of urological diseases, modern equipping of operation rooms and friendly environment within the urology department of JC "NSMC" will help you to quickly treat the most serious disease.
The Urology Department of "NSMC" has 15 beds. There are private and semiprivate wards, all of them are equipped with modern TV sets with cable television, separate rest-rooms with shower cabins.
Urinary stone disease (hereinafter — USD) — we perform all methods of USD surgical treatment. Treatment of urinary stone disease is performed by minimally invasive methods, i.e. without incision, we almost do not apply open surgery treatment, except for complicated cases. Depending on the size of the stone and its  localization, we select the necessary method of operative treatment:
— Percutaneous nephrolithotomy (hereinafter — PNL) — one of the most efficient and safe methods in treatment of large (more than1,5-2,0 cm), high-density coral kidney stones. We have a big experience of performing these type of surgery (more than 1000 surgeries). The PNL surgery is performed without incision, through a puncture in the lumber region. Using special tools and equipment we perform a contact lithotripsy. Depending on a certain situation the urgery can be performed while a patient is on his back or belly. In case of small kidney stones (less than 1,5cm) we can use mini – PNL (diameter of nephroscopic pathway — 14 Ch.), which is distinguished by excessively small injury rate and is easy to stand by patients.
In our center we have all types of contact lithotripter – ultrasound, pneumatic lithotripters and a unique holmium laser Litho of «Quanta system» company, which allow to quickly crash a stone of any size and density.
— Transurethral  ureteroscopy with contact lithotripsy (using both flexible and rigid ureterorenoscope) — endoscopic minimally invasive surgery through natural urinary tracts, the aim of which is crashing and complete removal of stones in renal duct and kidney by a contact method using holmium laser of «Quanta system» company.
—  Distant lithotripsy (hereinafter – DLT) – this treatment type is indicated for all stones in renal ducts up to 1,0cm, low density stones or if there are any contraindications to endoscopic surgeries. There is a distant lithotripter Dornier Lithotripter S with X-Ray and ultrasound guidance on a stone. During DLT the device is applied to the skin of lumbar region, anesthesia is not required.
Benign prostatic hyperplasia (hereinafter – BPH) (prostate adenoma) — our center has a great experience in treatment of this disease both by conservative and operative methods.
— Transurethral resection of BPH (hereinafter BPH-TUR) — is nowadays a "gold standard" in treatment of prostate adenoma. The surgery is performed through a natural renal ducts, using a special tool (bipolar or monopolar resectoscope) we remove a hyperplastic tissue of the prostatic gland.
Endovascular embolization of prostate arteries — this minimally invasive surgical treatment is indicated in case of big-size glands. It is performed with X-Ray control under local anesthesia, due to blocking of prostatic gland arteries we achieve the decrease on prostate size within several months. This surgery is performed for patients for whom anesthesia and endoscopic surgeries are contraindicated.
Hydronephrosis surgery (stricture of ureteropelvic junction or renal duct) —  we widely use laparoscopic repair-plastic surgeries for pyelo-uretheral junction and renal duct, laparoscopic ureterocystoneoanastomosis or laparoscopic Boari.
— Laparoscopic pyeloplasty – this minimally invasive operative surgical treatment the aim of which is correction of ureteropelvic junction (UPJ) strictures through small punctures in the anterior abdominal wall. Depending on the type of UPJ stricture we choose the plastic repair option — Hynes – Aderson plasty, Fenger plasty, Y-V plasty.
— Laparoscopic ureterocystoneoanastomosis — this reparative plastic surgery is performed in case of strictures and different genesis injuries of the lower third  of the renal duct through small punctures on the anterior abdominal wall under direct vision. This surgery is performed by suturing of a healthy part of the renal duct with the new part on the urinary bladder, it is performed according to special method.
— Boari surgery by laparoscopic approach – this type of surgery is performed in case of extended strictures of the low third of the renal duct, when a flap is formed from the urinary bladder and it is sutured to the renal duct. We were the first in Astana to perform this type of surgery by the laparoscopic approach, that sufficiently improved the life quality of patients in post-operative period and decreased the risk of cicatrical process development in the plastic repair area.
Laparoscopic nephrectomy — (kidney removal) – this operative treatment is indicated in case of kidney shrinkage, hypoplasia, terminal stage of hydronephrosis, kidney tumors and different kidney diseases leading to the loss of kidney function. It is performed through small punctures on anterior abdominal wall under under direct vision. Regardless of a big surgery the laparoscopic approach allows patients to stand this type of operation relatively easy with quicker recovery period.
Urethral stricture (scarry stricture of urinary tract lumen) – surgical treatment of urethral stricture is performed both by endoscopic method using holmium laser, and by open plastic surgeries (urethroplasty with scarry stricture excision and urethra "end-to-end" suturing, urethroplasty using buccal or skin flap)
— Optic (laser) urethrotomy — minimally invasive method of urethral stricture (up to 1 cm) surgical treatment, dissection of the urinary duct constricted part is performed using holmium laser.
— Urethral plasty using buccal or skin flap – we have a good experience in surgical treatment of extended scarry strictures of urinary tract using substitutive tissues (buccal or skin mucosa) both in males and females. Our specialists use advanced methods of urethral stricture treatment, which they studied in university clinics of Israel.  
Nephroptosis (renal ptosis) — flail kidney rotation, in our center this nosology is treated primarily by laparoscopic method.
—Laparoscopic nephropexy —  minimally invasive surgery is performed through puncture]s on anterior abdominal wall  under direct vision. Special mesh is used for suturing the kidney to the psoas muscle. This surgery treatment is indicated in case of different degree renal ptosis and allows to achieve good results within the shortest time.
Renal cyst – we perform both cyst puncturing and laparoscopic excision of renal cysts. We remove big cysts (more than 5-6 cm in diameter), which constrict kidney and can be the reason of arterial hypertension. Kidney cyst puncture is indicated for patients for whom the operative treatment of cysts is contraindicated.
— Laparoscopic dissection of renal cysts — this minimally invasive operative treatment, allowing to completely dissect renal cyst, that brings the risk of cyst recurrence to zero. It is performed through small punctures on anterior abdominal wall under direct vision.
Diagnostics (screening)  and treatment of oncourological diseases:
Prostate cancer — in our center you can make a full diagnostics and get treatment of prostate cancer:
— Prostate biopsy under US guidance with further patomorphological investigation of biopsy material.
— HIFU-therapy — innovative method of oncology disease treatment. Ultrasound waves produced by the generator focus on tumors that leads to their elimination.
— Laparoscopic prostatectomy – in our center this type of surgery is performed up to Т2b stage of cancer.
Urinary bladder cancer – we perform surgeries inly at non-invasive forms of cancer (Т1) — we perform the TURP of the urinary bladder cancer.
Also the Urology Department provides other types of operative surgery:
— Laparoscopic plasty of  vesicovaginal fistula — this reparative plastic surgery is performed through small punctures on anterior abdominal wall under direct vision, then the fistula between urogenital tracts is removed.
—  Urethropexy using loop implant ТVT-О — this operative treatment is performed in case of stress forms of female involuntary urination using special cellular implant.
— Different types of andrological surgeries.
Our Urology Department also has outpatient visits. You can get a consultation of urologist on any questions interesting you, and undergo the whole range of laboratory and instrumental tests, including pathohistological and microbiological investigations.
Contacts: to make an appointment please call the following numbers:
Head of Urology Department, PhD, Iskakov Y.A.: +7(7172)577458
Doctors' rooms at the Urology Department: +7(7172)577536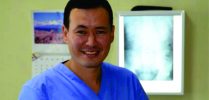 Date: 25.09.2017
Time: 12:58
Sorry, this entry is only available in Russian.
READ MORE ›